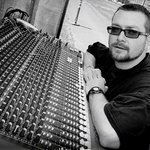 Chad Hamlin
Chad Hamlin is primarily known for being one of the creative gurus that gave birth to the alternative rock band, element66. With his solo project, LooNurGooSe, Chad explores his experimental side by creating hypnotic grooves woven together with psychedelic bass playing. The approach he takes with graphic design, mixing, mastering, and production has given him an expressive voice as a true recording artist. To learn more about Chad and his two bands, element66 and LooNurGooSe, go to: http://www.loonurgoose.com http://www.esixsix.com Chad Hamlin joined Society6 on January 6, 2016
More
Chad Hamlin is primarily known for being one of the creative gurus that gave birth to the alternative rock band, element66. With his solo project, LooNurGooSe, Chad explores his experimental side by creating hypnotic grooves woven together with psychedelic bass playing. The approach he takes with graphic design, mixing, mastering, and production has given him an expressive voice as a true recording artist. To learn more about Chad and his two bands, element66 and LooNurGooSe, go to:
http://www.loonurgoose.com
http://www.esixsix.com
Chad Hamlin joined Society6 on January 6, 2016.
Chad Hamlin's Store
87 results
Filter