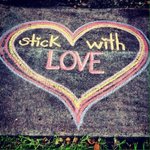 ChalkProject
Chalk Project is about spreading messages of kindness & inspiration. Our mission is to create uplifting messages with chalk on neighborhood sidewalks, with hopes that this anonymous message will collide with the person that needs it most. Whether it be chalk messages on sidewalks or in cyberspace, it is our hope to bring a moment of encouragement to the person seeing it. It is our hope to spread these messages to the world & inspire others to start a Chalk Project in their local town. ChalkProject joined Society6 on June 23, 2014
More
Chalk Project is about spreading messages of kindness & inspiration. Our mission is to create uplifting messages with chalk on neighborhood sidewalks, with hopes that this anonymous message will collide with the person that needs it most.
Whether it be chalk messages on sidewalks or in cyberspace, it is our hope to bring a moment of encouragement to the person seeing it.
It is our hope to spread these messages to the world & inspire others to start a Chalk Project in their local town.
ChalkProject joined Society6 on June 23, 2014.
ChalkProject's Store
16 results
Filter