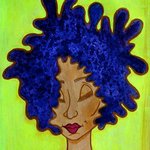 ChanelChristoffDavis
I grew up in the most amazing and magical city in the United States. Visiting my hometown of New Orleans is like opening a wonderful, colorful, vibrant, and musical living art history book. With such a creative and colorful beginning, having some sort of artistic talent is almost guaranteed.
I started painting to fill the walls of my first adult home after I got married. I never really picked up a paintbrush before that time, but I have dabbled in all sorts of visual arts my entire life. I have taken up photography, scrapbooking, crocheting, and sewing to name a few. The list is much longer trust me.
From that first experience of painting, I knew I was on to something special and I have not stop painting since.
Read more