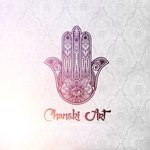 Chanski Art
Hi, I'm Chanski, and welcome to Chanski Art! I got my name "Chanski" from high school. It's a nickname and I honestly am in love with it, so I thought it would be a perfect name for my shop! I am a young artist (20) and I truly enjoy drawing as well as working with some form of graphic design. I was struggling for the longest time if I wanted to post my artwork and sell them. After a few years of hesitating, I am finally taking the step forward and taking a stab at it! My artwork might not be perfect, but that's alright! It reflects me as an artist, I am not perfect either. I might have some scribbles here and there or extra paint to the side of the page that I miss when editing and posting my artwork, but that's alright as well! I like seeing those types of things in my artwork, it shows me that I have worked hard and I put time and effort into erasing, changing, and making it look as best as I can. I am currently a college student who is getting an Associates Degree in Social and Human Services. Soon, I will be graduating then working on my Bachelors in Psychology! **Please Note** If you buy any artwork from me and get it through the mail, I would love to see it hanging on your wall and/or you wearing it! Please don't hesitate to send me a message through gmail at mikaela.gardner2@gmail.com! I would love to hear your feedback o how well the images turned out! Chanski Art joined Society6 on April 10, 2016
More
Hi, I'm Chanski, and welcome to Chanski Art!
I got my name "Chanski" from high school. It's a nickname and I honestly am in love with it, so I thought it would be a perfect name for my shop!
I am a young artist (20) and I truly enjoy drawing as well as working with some form of graphic design. I was struggling for the longest time if I wanted to post my artwork and sell them. After a few years of hesitating, I am finally taking the step forward and taking a stab at it! My artwork might not be perfect, but that's alright! It reflects me as an artist, I am not perfect either. I might have some scribbles here and there or extra paint to the side of the page that I miss when editing and posting my artwork, but that's alright as well! I like seeing those types of things in my artwork, it shows me that I have worked hard and I put time and effort into erasing, changing, and making it look as best as I can.
I am currently a college student who is getting an Associates Degree in Social and Human Services. Soon, I will be graduating then working on my Bachelors in Psychology!
Please Note
If you buy any artwork from me and get it through the mail, I would love to see it hanging on your wall and/or you wearing it! Please don't hesitate to send me a message through gmail at mikaela.gardner2@gmail.com! I would love to hear your feedback o how well the images turned out!
Chanski Art joined Society6 on April 10, 2016.
Phone Skins by Chanski Art
16 results
Filter