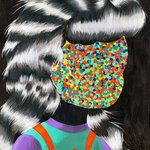 Mrglaubitz
Mexican illustrator Charles Glaubitz lives in Tijuana, a block away from the beach where he used to surf, breakdance, freestyle and such since he was young boy. Born from a German-American father and mother from Los Mochis, Sinaloa, Mexico he now splits his professional time between his art and his teaching at the San Diego City College, across the border. His work has been recognized by American Illustration, Communication Arts, How Magazine, Print Magazine. Past clients have included: Rolling Stone Magazine, United Airlines, Converse, Asset International, San Diego Transit System, Timken Museum, and 1800 Tequila, just to name a few. Mrglaubitz joined Society6 on April 13, 2010
More
Mexican illustrator Charles Glaubitz lives in Tijuana, a block away from the beach where he used to surf, breakdance, freestyle and such since he was young boy. Born from a German-American father and mother from Los Mochis, Sinaloa, Mexico he now splits his professional time between his art and his teaching at the San Diego City College, across the border. His work has been recognized by American Illustration, Communication Arts, How Magazine, Print Magazine.
Past clients have included: Rolling Stone Magazine, United Airlines, Converse, Asset International, San Diego Transit System, Timken Museum, and 1800 Tequila, just to name a few.
Mrglaubitz joined Society6 on April 13, 2010.
The Pleiadian And The Annunaki In The Gardens Of The World_Stretched Canvas Apparel by Mrglaubitz
6 result
Filter