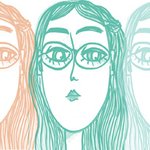 Charline Denys
Hi ! I'm Charline and i am a Belgian illustrator. I'm 24 years old. I love draw girl and flowers, nature, etc and i also love to engraving ! If you want you can follow me here : http://bateaurouge.canalblog.com/ https://www.facebook.com/bateau.rouge.3 Love ! Charline. Charline Denys joined Society6 on February 7, 2014
More
Hi ! I'm Charline and i am a Belgian illustrator. I'm 24 years old. I love draw girl and flowers, nature, etc and i also love to engraving ! If you want you can follow me here :
http://bateaurouge.canalblog.com/ https://www.facebook.com/bateau.rouge.3
Love !
Charline.
Charline Denys joined Society6 on February 7, 2014.