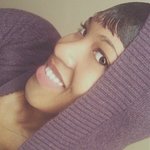 charlinJANENE
Versatile multi-media artist born in Akron, OH, raised in Riviera Beach & West Palm Beach, FL. Drawing since I was a toddler - the story - Mom watched me write my name on a piece of paper copying from the refrigerator. I attended a performing arts school (Miller South, Akron, OH), audition admission only, 6th through 8th grade - absolutely loved it! I think I have five tiles on the main floor wall, circa 1999. Used to play steel drums and piano. Was also in a vocal group with my brothers and cousin in middle school, first single was called "That Girl Is Mine", the lyrics have slipped my memory. I used to sing in church choirs as a child through my teenage years, as a soprano, tried alto one year, didn't care for it. Summer of 2004 I attended the NAACP convention in Philly, PA where I competed nationally, I won the local competition in Akron, OH. I've sold a few dozen pieces, my first was in 6th grade - to a local business in Akron, sold a piece to Akron Children's Hospital as well. I'm into television and radio production/broadcast journalism, professionally, heavily influenced by my Dad's career as a journalist/sports writer & editor for most of my life, 25 years (The Palm Beach Post & The Plain Dealer). I remember always watching the news and/or reading the paper as a child. Anything that can be created, in the arts is pretty much my thing. Worked for The University of Akron's ZipsVision production staff and while working there I gained experience from FOX TV and ESPN, Interned at NewsChannel 13, KKTV 11 News, & Sky Sox Baseball (minor league team) in Colorado Springs, CO. There I was writing & producing news, creating & editing video using AVID, recording & editing plays in sports, writing & producing radio commercials, arranging music, and going into the field as a reporter; all while attending college and working a part-time job. Graduated Phi Theta Kappa with a degree in Applied Science. I am currently earning my second degree in Web Design & Interactive Media at the Art Institute of Pittsburgh. Left the Sports Marketing & Media program at the extremely sought-after, college for media professionals, Full Sail University for numerous reasons. I aspire to write a book, one of these days when I find time. If you have questions about my work or would like to link up; serious inquiries only: - cjanene.plmg.mgmt@gmail.com - cjanene@stu.aii.edu charlinJANENE joined Society6 on October 22, 2012
More
Versatile multi-media artist born in Akron, OH, raised in Riviera Beach & West Palm Beach, FL. Drawing since I was a toddler - the story - Mom watched me write my name on a piece of paper copying from the refrigerator.
I attended a performing arts school (Miller South, Akron, OH), audition admission only, 6th through 8th grade - absolutely loved it! I think I have five tiles on the main floor wall, circa 1999. Used to play steel drums and piano. Was also in a vocal group with my brothers and cousin in middle school, first single was called "That Girl Is Mine", the lyrics have slipped my memory. I used to sing in church choirs as a child through my teenage years, as a soprano, tried alto one year, didn't care for it.
Summer of 2004 I attended the NAACP convention in Philly, PA where I competed nationally, I won the local competition in Akron, OH. I've sold a few dozen pieces, my first was in 6th grade - to a local business in Akron, sold a piece to Akron Children's Hospital as well.
I'm into television and radio production/broadcast journalism, professionally, heavily influenced by my Dad's career as a journalist/sports writer & editor for most of my life, 25 years (The Palm Beach Post & The Plain Dealer). I remember always watching the news and/or reading the paper as a child.
Anything that can be created, in the arts is pretty much my thing. Worked for The University of Akron's ZipsVision production staff and while working there I gained experience from FOX TV and ESPN, Interned at NewsChannel 13, KKTV 11 News, & Sky Sox Baseball (minor league team) in Colorado Springs, CO. There I was writing & producing news, creating & editing video using AVID, recording & editing plays in sports, writing & producing radio commercials, arranging music, and going into the field as a reporter; all while attending college and working a part-time job. Graduated Phi Theta Kappa with a degree in Applied Science.
I am currently earning my second degree in Web Design & Interactive Media at the Art Institute of Pittsburgh. Left the Sports Marketing & Media program at the extremely sought-after, college for media professionals, Full Sail University for numerous reasons. I aspire to write a book, one of these days when I find time.
If you have questions about my work or would like to link up; serious inquiries only:
cjanene.plmg.mgmt@gmail.com
cjanene@stu.aii.edu
charlinJANENE joined Society6 on October 22, 2012.
charlinJANENE's Store
4 results
Filter