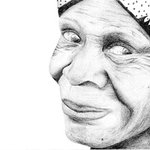 Charlotte Victoria Skyner
Charlotte Victoria Skyner (1993) is an artist and photographer born in England. She is currently situated in Las Galletas, South Teneife. Charlotte enjoys working with pencil, acrylic and oils. At present, she is building up her newest collection of the 'Cultural Faces' exhibition, whilst also adding to her portfolio of 'Floral' Acrylics and Oils. She also enjoys working with chalks, creating unique Wall Murals and pieces and aspires to work with jewellery and clay sculptures in the near future. www.charlottevictoria.weebly.com Charlotte Victoria Skyner joined Society6 on November 18, 2012
More
Charlotte Victoria Skyner (1993) is an artist and photographer born in England. She is currently situated in Las Galletas, South Teneife. Charlotte enjoys working with pencil, acrylic and oils. At present, she is building up her newest collection of the 'Cultural Faces' exhibition, whilst also adding to her portfolio of 'Floral' Acrylics and Oils. She also enjoys working with chalks, creating unique Wall Murals and pieces and aspires to work with jewellery and clay sculptures in the near future.
www.charlottevictoria.weebly.com
Charlotte Victoria Skyner joined Society6 on November 18, 2012.
Charlotte Victoria Skyner's Store
7 results
Filter