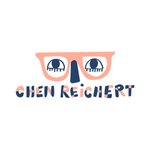 chenreichert
Chen was born in a kibbutz near Haifa, Israel where she spent her time doodling in and on books and frequenting her father's industrial design workshop. Her family moved to Philadelphia, PA at the start of the roaring 90's. During this time Chen devoted herself to studying English via Saved By the Bell, 90210, Fresh Prince of Bel Air and BOP magazine. With her "like totally" awesome new English skills Chen soon began creating comic books about female super heros and teen drama. Chen attended Pratt Institute where she studied fashion and art history. After her studies Chen's nomadic wanderings brought her to live and work in Nara, Japan where she cultivated her love for all things cute, colorful, and handmade. Her first crafty venture, Botodesigns, was a robot filled art land. Her second and current project, Late Greats, is a collection of stuffy historical figures that can be found in shops around the world. In 2014 Chen returned to Japan for a year and half, exploring and sketching her way across Tokyo with stops at cat, bunny, bird, and lizard cafes. She currently resides in New Haven, CT with her husband, two cats and a plant named Rob. Chen recently completed a 100 day drawing challenge in which she illustrated her 90s kid throwback every day. Check it out on her instagram! #chens100daysofthrowbacks www.chenreichert.com www.instagram.com/Chenreichert www.society6.com/chenreichert Check out my Stuffy Historic Figures: www.lategreats.com www.lategreats.etsy.com www.instagram.com/lategreats www.society6.com/lategreats chenreichert joined Society6 on February 16, 2015
More
Chen was born in a kibbutz near Haifa, Israel where she spent her time doodling in and on books and frequenting her father's industrial design workshop. Her family moved to Philadelphia, PA at the start of the roaring 90's. During this time Chen devoted herself to studying English via Saved By the Bell, 90210, Fresh Prince of Bel Air and BOP magazine. With her "like totally" awesome new English skills Chen soon began creating comic books about female super heros and teen drama.
Chen attended Pratt Institute where she studied fashion and art history. After her studies Chen's nomadic wanderings brought her to live and work in Nara, Japan where she cultivated her love for all things cute, colorful, and handmade. Her first crafty venture, Botodesigns, was a robot filled art land. Her second and current project, Late Greats, is a collection of stuffy historical figures that can be found in shops around the world. In 2014 Chen returned to Japan for a year and half, exploring and sketching her way across Tokyo with stops at cat, bunny, bird, and lizard cafes. She currently resides in New Haven, CT with her husband, two cats and a plant named Rob.
Chen recently completed a 100 day drawing challenge in which she illustrated her 90s kid throwback every day. Check it out on her instagram! #chens100daysofthrowbacks
www.chenreichert.com www.instagram.com/Chenreichert www.society6.com/chenreichert
Check out my Stuffy Historic Figures: www.lategreats.com www.lategreats.etsy.com www.instagram.com/lategreats www.society6.com/lategreats
chenreichert joined Society6 on February 16, 2015.