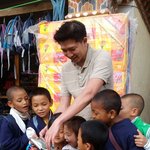 cherngzhi
My main body of work comprises watercolor paintings completed on-site, painted directly on the medium, without drafting lines. This straight forward approach forces me to rapidly internalize the essence of my subject and facilitated capturing the mood and atmosphere of a fleeting moment. The interplay between light and form is what draws my attention and inspires me to render an impression of what is in front of me. Painting on-site also requires mastery over the design of shapes, colors, and values that go into a painting; extracting the essence, while at the same time discarding anything unnecessary. Challenged by changing light and weather conditions, I am further spurred to be decisive by the rapidly drying watercolor washes. Paradoxically, the challenges of painting on-site detach me from the stress and anxieties of my urban life. - I am thus at peace whenever I paint. my website is at www.cherngzhi.com cherngzhi joined Society6 on January 26, 2014
More
My main body of work comprises watercolor paintings completed on-site, painted directly on the medium, without drafting lines. This straight forward approach forces me to rapidly internalize the essence of my subject and facilitated capturing the mood and atmosphere of a fleeting moment.
The interplay between light and form is what draws my attention and inspires me to render an impression of what is in front of me. Painting on-site also requires mastery over the design of shapes, colors, and values that go into a painting; extracting the essence, while at the same time discarding anything unnecessary. Challenged by changing light and weather conditions, I am further spurred to be decisive by the rapidly drying watercolor washes. Paradoxically, the challenges of painting on-site detach me from the stress and anxieties of my urban life. - I am thus at peace whenever I paint.
my website is at www.cherngzhi.com
cherngzhi joined Society6 on January 26, 2014.
cherngzhi's Store
152 results
Filter