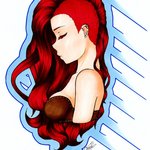 Cherry-Anne
Hi! Welcome to my page! I'm a 20 year old student and drawing has always been a hobby of mine. I finaly took the chance to start up my own Society6 Store to make it easier for people to acces my art incase anyone wanted to buy it. I hope you like it! Deviant Art: http://cherry-anne.deviantart.com/ Cherry-Anne joined Society6 on May 30, 2016
More
Hi!
Welcome to my page!
I'm a 20 year old student and drawing has always been a hobby of mine. I finaly took the chance to start up my own Society6 Store to make it easier for people to acces my art incase anyone wanted to buy it. I hope you like it!
Deviant Art: http://cherry-anne.deviantart.com/
Cherry-Anne joined Society6 on May 30, 2016.