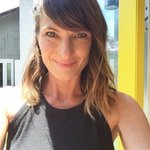 Cheryl Sorg
I am a mixed media artist, working mostly with tape and dichroic film, and I have a street art project called portals of hope in which I put small rainbow tape pieces up in the world and photograph them. I also obsessively photograph clouds, and use those photographs frequently in my work. I live in Encinitas, California with my husband and two children. Read on for more about my art career..... Thanks!
My work has been exhibited in numerous galleries and museums on both coasts, in New York, Boston and California, including WorkSpace Gallery in NYC, The Photographic Resource Center at Boston University, Copley Society in Boston, The Museum of Photographic Arts and the San Diego Art Institute in San Diego, The Torrance Art Museum and the Long Beach Museum of Art. My work is included in the permanent collection of the Yale University Art Gallery, as well as on site at Clemson University, Hilton West Palm Beach and Texas A&M University.
I have received a number of awards for my work, most notably a travel grant to photograph in Rio de Janeiro from MassArt and a fellowship at the MacDowell Colony in Peterborough, New Hampshire.
Read more