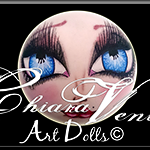 Chiara Venice Art Dolls
Art Dolls are the key to my unconscious mind, my way down the rabbit hole, my looking glass into the world around me and beyond.
From the beginning the process of transforming an idea into a pattern, then into a doll, then to add all the elements needed to bring it to life and give it it's very own soul, always strikes me as mystical!
With each art doll I make it consumes me and feeds my passion to create more. The sense of accomplishment and pride fills me up and pushes me to want to further my artistic abilities.
My work incorporates both traditional and modern techniques, almost verging on pop surrealism. I try not to conform to one particular genre and prefer to spread my artistic wings and soar to uncharted domains.
I love to create big alluring yet unnerving eyes at times. I feel this is what holds the spirit of my dolls soul and if their eyes are following you I have indeed succeeded!
I hope my art work speaks for itself and whatever it is saying to the viewer- will be the right message for them because there is no wrong or right message. Each person takes something different from the same art work and I am happy with that.
"One art work with unlimited interpretations!"
Read more