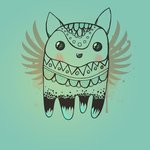 Chickamoo
My friends call me Chicken, a few of them call me Moomin which somewhere down the road turned into Chickamoo. On that same road, I went from doodling and giving away the odd piece of artwork to family and friends to being a freelance artist. I feel fortunate to have known my passion my entire life.
I have always been passionate about drawing, painting and creating in general. My creative talents have been with me since I was a kid, I always wanted to go to art school and be an artist.
My work is largely centered around my experiences, imagination and interests. I find myself drawn to creating surreal creatures and colourful imaginary scenery. Each piece I create is a way to explore myself as well as stretch my imagination and explore the dreamlike scenes and creatures I am creating in my work.
Inspiration comes from many areas of life, mainly the people around me and also my travels. The desire to work for myself full time as a freelance artist keeps me moving forward and strive to learn new skills and search for fresh ideas.
Read more