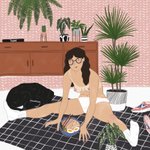 Chloe Joyce Illustrations
Hi I'm Chloe and I'm a Sydney based Illustrator and Graphic Designer specialising mostly in Watercolour, Pencil and animal puns. From cats with identity crisis's , deadpan top-knotted lasses and heavy hearted bears, my illustrations aim to put a bit of a smile on your face and make you pine for an awkward first date.
Please feel free to drop by my website to see more of my work and contact for commission work.
chloejoyceillustration.com
Read more
Prints by Chloe Joyce Illustrations
Filter
Prints by Chloe Joyce Illustrations