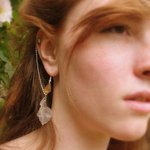 Chloe Moments
Hi there, My name is Chloe and I design digital art. My works focus mainly on nature and, from living in the countryside, this is a huge part of my life. I will soon be moving to university in a city and began starting my works to keep in touch with the nature I see around me at home. I love mixing my passion for nature with the love of letters and seeing the effects it creates. I am happy to work on commission pieces for you and love trying new things so feel free to have a chat with me about possible works and I will do my best to fill your requirements! Thanks for looking, C xxx Chloe Moments joined Society6 on August 31, 2013
More
Hi there,
My name is Chloe and I design digital art. My works focus mainly on nature and, from living in the countryside, this is a huge part of my life. I will soon be moving to university in a city and began starting my works to keep in touch with the nature I see around me at home. I love mixing my passion for nature with the love of letters and seeing the effects it creates.
I am happy to work on commission pieces for you and love trying new things so feel free to have a chat with me about possible works and I will do my best to fill your requirements!
Thanks for looking, C xxx
Chloe Moments joined Society6 on August 31, 2013.