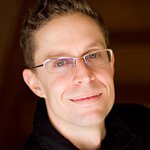 Chris Jones
I'm an illustrator with an expressive and humorous style that is fun and engaging. I'm equally comfortable working on picture books, or sequentially in comics/cartoons. Born near Toronto, Canada, and raised on comic books, red licorice, and Saturday morning cartoons, I've been drawing with a passion ever since I could hold a crayon! I am a graduate of the Ontario College of Art and Design, and a member of the Society of Children's Book Writers and Illustrators. Chris Jones joined Society6 on August 8, 2012
More
I'm an illustrator with an expressive and humorous style that is fun and engaging. I'm equally comfortable working on picture books, or sequentially in comics/cartoons.
Born near Toronto, Canada, and raised on comic books, red licorice, and Saturday morning cartoons, I've been drawing with a passion ever since I could hold a crayon!
I am a graduate of the Ontario College of Art and Design, and a member of the Society of Children's Book Writers and Illustrators.
Chris Jones joined Society6 on August 8, 2012.
Chris Jones's Store
12 results
Filter