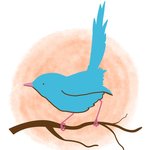 ChrissieCanDraw
I have always had a love for nature coupled with a vivid imagination. My first memories are of spending my days outside in my childhood backyard surrounded by chickens, rabbits, dogs and cats (not to mention the numerous garden birds, insects, amphibians, arachnids and lizards that naturally occur there) - that is if I wasn't with my mother at the Art College. There I kept myself busy with drawing, painting and playing with clay while my mother studied art. This, inevitably lead to my love of art mixed in with a deep appreciation of nature. During my high school years, I attended Principia College Art and Drama school after which I then obtained a degree in Nature Conservation at NMMU. I then pursued a career in conservation, but still used my skill as an artist to illustrate environmental education booklets for various organisation.  After spending five inspiring months in the Peruvian rainforest in 2013, I decided to become a full-time illustrator. I also started my own colouring book series focusing on cultivating a love for nature in children and adults alike. Now I spend my days drawing animated, fun characters and scenes inspired by my experience of the natural world. Luv, Chrissie Cloete (aka ChrissieCanDraw) ChrissieCanDraw joined Society6 on June 30, 2015
More
I have always had a love for nature coupled with a vivid imagination. My first memories are of spending my days outside in my childhood backyard surrounded by chickens, rabbits, dogs and cats (not to mention the numerous garden birds, insects, amphibians, arachnids and lizards that naturally occur there) - that is if I wasn't with my mother at the Art College. There I kept myself busy with drawing, painting and playing with clay while my mother studied art. This, inevitably lead to my love of art mixed in with a deep appreciation of nature. During my high school years, I attended Principia College Art and Drama school after which I then obtained a degree in Nature Conservation at NMMU. I then pursued a career in conservation, but still used my skill as an artist to illustrate environmental education booklets for various organisation.  After spending five inspiring months in the Peruvian rainforest in 2013, I decided to become a full-time illustrator. I also started my own colouring book series focusing on cultivating a love for nature in children and adults alike. Now I spend my days drawing animated, fun characters and scenes inspired by my experience of the natural world.
Luv, Chrissie Cloete (aka ChrissieCanDraw)
ChrissieCanDraw joined Society6 on June 30, 2015.
ChrissieCanDraw's Store
3 results
Filter