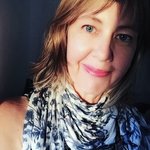 Christine Scurr
Hello, my name is Chrissy/Christine Scurr. I live in the north of Queensland in Australia, and I paint for the sheer love of colour, expression, emotion and creating beauty. I especially love doing intuitive work where I start with a blank canvas and let it flow to where it feels right. I also love anything whimsical, mystical and mysterious. I paint emotionally and react to other artist's work the same way, especially the energy of colour. I tend to paint by mood, and this has me loving the challenge of a portrait, and then letting go with the freedom of an abstract. My artwork always represents a message or emotion. Sometimes I choose to be messy, and quickly paint, other times I will love the soothing process of drawing and colouring in. I don't have a signature look, preferred method or medium, preferring the unknown of what is coming next. The work you can see here is the beginning of my intuitive painting journey. For more of my work please visit at www.christinescurr.com Thank you. Christine Scurr joined Society6 on July 8, 2014
More
Hello, my name is Chrissy/Christine Scurr. I live in the north of Queensland in Australia, and I paint for the sheer love of colour, expression, emotion and creating beauty. I especially love doing intuitive work where I start with a blank canvas and let it flow to where it feels right. I also love anything whimsical, mystical and mysterious. I paint emotionally and react to other artist's work the same way, especially the energy of colour. I tend to paint by mood, and this has me loving the challenge of a portrait, and then letting go with the freedom of an abstract. My artwork always represents a message or emotion. Sometimes I choose to be messy, and quickly paint, other times I will love the soothing process of drawing and colouring in. I don't have a signature look, preferred method or medium, preferring the unknown of what is coming next.
The work you can see here is the beginning of my intuitive painting journey.
For more of my work please visit at www.christinescurr.com
Thank you.
Christine Scurr joined Society6 on July 8, 2014.