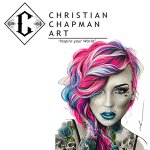 Christian Chapman Art
...From Organic Beginnings Stems a Creative Art Career... Christian began drawing at a very young age and subconsciously absorbed his skills from watching his mother painting. She was an established New Zealand Artist with exceptional portrait skills, drawing from life and beautiful nature studies. She was also a Fashion Illustrator and Art tutor, and won numerous national art awards. Subtle accents of modernism have also been handed down from his father - a graphic artist in his own right. Christian grew up in New Zealand over looking Sumner beach in Christchurch, and naturally began to paint the sea. Living up on Clifton Hill with the Southern Alps framing the sea, his attraction to the surfing the wild ocean began. There was no drive accessing the property...just the ocean and nature's bounties. No cars or neighbours provided the perfect environment to paint, write music, and play his guitar. At 16 years of age, Christian began honing his art skills with surfboards as his canvas at Ian Thompson's Exit Surf Shop. By the time Christian was in his early twenties, he decided to venture the alluring horizon and moved to the Gold Coast of Australia. With a larger audience and faster paced lifestyle, he began to develop his portrait art skills at his Gold Coast art studio. Without his wife Rachel's behind the scenes professionalism running the art machine – Christian wouldn't be on the map. He also learned and introduced the airbrush as an added element to his paintings. Unorthodox and beautiful, this unique look has attracted art collectors from all over the world seeking to own an original, one of a kind, Christian Chapman Art piece. Christian's passion for the ocean and music are evident through his "Ocean" and "Portrait Series" artworks. He believes in recreating these visions and painting them to inspire his audience, simultaneously complimenting any room or décor. There are no rules in the world of Art, and Christian will continue to bring his boundless, free expressionism to change the status quo and inspire the viewer's perception. "Inspire your World" - Christian Chapman Christian Chapman Art joined Society6 on February 6, 2013
More
                 ...From Organic Beginnings Stems a Creative Art Career...

Christian began drawing at a very young age and subconsciously absorbed his skills from watching his mother painting.
She was an established New Zealand Artist with exceptional portrait skills, drawing from life and beautiful nature studies. She was also a Fashion Illustrator and Art tutor, and won numerous national art awards. Subtle accents of modernism have also been handed down from his father - a graphic artist in his own right.
Christian grew up in New Zealand over looking Sumner beach in Christchurch, and naturally began to paint the sea. Living up on Clifton Hill with the Southern Alps framing the sea, his attraction to the surfing the wild ocean began. There was no drive accessing the property...just the ocean and nature's bounties. No cars or neighbours provided the perfect environment to paint, write music, and play his guitar.
At 16 years of age, Christian began honing his art skills with surfboards as his canvas at Ian Thompson's Exit Surf Shop.
By the time Christian was in his early twenties, he decided to venture the alluring horizon and moved to the Gold Coast of Australia. With a larger audience and faster paced lifestyle, he began to develop his portrait art skills at his Gold Coast art studio.
Without his wife Rachel's behind the scenes professionalism running the art machine – Christian wouldn't be on the map.
He also learned and introduced the airbrush as an added element to his paintings. Unorthodox and beautiful, this unique look has attracted art collectors from all over the world seeking to own an original, one of a kind, Christian Chapman Art piece.
Christian's passion for the ocean and music are evident through his "Ocean" and "Portrait Series" artworks. He believes in recreating these visions and painting them to inspire his audience, simultaneously complimenting any room or décor.
There are no rules in the world of Art, and Christian will continue to bring his boundless, free expressionism to change the status quo and inspire the viewer's perception.
                                 "Inspire your World" - Christian Chapman

Christian Chapman Art joined Society6 on February 6, 2013.