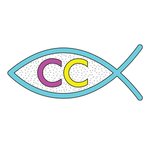 Christian Creatives
Christian Creatives, a collective of creative people teaming up to show Christianity is colorful and creative! In these times Christianity often has the image of being boring or dull. We think this is a misconception. The bible says "Great is our Lord, and of great power: His understanding is infinite" (Psalm 147:5) and "Behold, God is mighty, and despiseth not any: He is mighty in strength and wisdom" (Job 36:5) To us this sends a powerful message. The Lord understands all of us. He was able to understand the minds of the people living in Old Jerusalem AND He is able to understand the minds of young teenagers in New York. He knows our grandparents as He knows us. A way to show our Lord is of all times is trough the pieces in our store. Our collective used to be just a group of friends making cool things for on our own walls, but family members and friends asked for us to make work for them too. After many positive responses we decided to open up a store here at Society6 so that people worldwide can enjoy modern Christian art prints, posters and t-shirts. At first we will concentrate on pieces especially for occasions, such as a new home or expecting a child. Later on we will expand that spectrum but for now we get most requests for this type of work. We want to thank you for the interest in our work and may God Bless you! Christian Creatives joined Society6 on September 19, 2013
More
Christian Creatives, a collective of creative people teaming up to show Christianity is colorful and creative!
In these times Christianity often has the image of being boring or dull. We think this is a misconception. The bible says "Great is our Lord, and of great power: His understanding is infinite" (Psalm 147:5) and "Behold, God is mighty, and despiseth not any: He is mighty in strength and wisdom" (Job 36:5)
To us this sends a powerful message. The Lord understands all of us. He was able to understand the minds of the people living in Old Jerusalem AND He is able to understand the minds of young teenagers in New York. He knows our grandparents as He knows us.
A way to show our Lord is of all times is trough the pieces in our store. Our collective used to be just a group of friends making cool things for on our own walls, but family members and friends asked for us to make work for them too. After many positive responses we decided to open up a store here at Society6 so that people worldwide can enjoy modern Christian art prints, posters and t-shirts.
At first we will concentrate on pieces especially for occasions, such as a new home or expecting a child. Later on we will expand that spectrum but for now we get most requests for this type of work.
We want to thank you for the interest in our work and may God Bless you!
Christian Creatives joined Society6 on September 19, 2013.