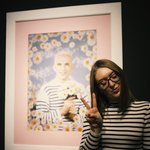 Christie Rainey
Hi there, I am Christiane and i'm about to graduate in Design (Film, Photography, Graphic Design) Currently i am trying to bring a new structure to my society6 shop and increase my products. I will go back to my passion and do more watercolour paitings and phone case designs. !!! If an artwork you like is not available as a certain product, feel free to send me an email @ christianerainey@gmx.de and i can put it up for you !!! Find me on the social networks: http://christianeflierl.tumblr.com http://twitter.com/ChristieRainey http://instagram.com/christierainey http://pinterest.com/christie_rainey Christie Rainey joined Society6 on October 21, 2012
More
Hi there,
I am Christiane and i'm about to graduate in Design (Film, Photography, Graphic Design)
Currently i am trying to bring a new structure to my society6 shop and increase my products. I will go back to my passion and do more watercolour paitings and phone case designs.
!!! If an artwork you like is not available as a certain product, feel free to send me an email @ christianerainey@gmx.de and i can put it up for you !!!
Find me on the social networks:
http://christianeflierl.tumblr.com
http://twitter.com/ChristieRainey http://instagram.com/christierainey http://pinterest.com/christie_rainey
Christie Rainey joined Society6 on October 21, 2012.