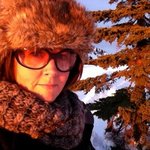 christina norberg
Artist/Illustrator based in Vancouver, BC, Canada. I care deeply for this amazing planet, and the people and creatures who live here. Chances are, when I'm not in the studio dreaming up new work, I'm riding my bike around the city or playing in the forest, with my husband and two sons. Or I'm probably at an art opening with a bunch of crazy artists, mostly likely with drink in hand. www.christinanorberg.com christina norberg joined Society6 on October 31, 2014
More
Artist/Illustrator based in Vancouver, BC, Canada. I care deeply for this amazing planet, and the people and creatures who live here. Chances are, when I'm not in the studio dreaming up new work, I'm riding my bike around the city or playing in the forest, with my husband and two sons. Or I'm probably at an art opening with a bunch of crazy artists, mostly likely with drink in hand.
www.christinanorberg.com
christina norberg joined Society6 on October 31, 2014.
christina norberg's Store
120 results
Filter