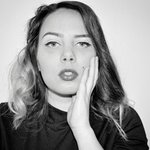 Christina Darville
My work tends to focus on my happiness and my unhappiness, my life experiences and my memories, my dreams my uncertainties, my culture and nature, and symbolisms and meanings. You can visit me on social media for more creative content! Instagram: christinadesigns_ Facebook: Christina Darville Artist Website: http://christinawd91.wix.com/christinaartist Christina Darville joined Society6 on November 24, 2013
More
My work tends to focus on my happiness and my unhappiness, my life experiences and my memories, my dreams my uncertainties, my culture and nature, and symbolisms and meanings.
You can visit me on social media for more creative content! Instagram: christinadesigns_ Facebook: Christina Darville Artist Website: http://christinawd91.wix.com/christinaartist
Christina Darville joined Society6 on November 24, 2013.