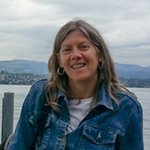 Christine Aseka
Hello! I am an artist from Bern, Switzerland. My work is usually colorful and bright and shows my love for nature. That's also where I get my inspiration from. The mediums I use are watercolor, gouache and acrylics. I also love to tie dye and to do calligraphy. If you are looking for an artwork which brightens your day, you are in the right place. You can find more infos here: http://www.christineaseka.ch/ or here: http://instagram.com/chrigesart or here: http://www.pinterest.com/christineaseka/ Christine Aseka joined Society6 on January 22, 2015
More
Hello! I am an artist from Bern, Switzerland. My work is usually colorful and bright and shows my love for nature. That's also where I get my inspiration from. The mediums I use are watercolor, gouache and acrylics. I also love to tie dye and to do calligraphy. If you are looking for an artwork which brightens your day, you are in the right place.
You can find more infos here: http://www.christineaseka.ch/ or here: http://instagram.com/chrigesart or here: http://www.pinterest.com/christineaseka/
Christine Aseka joined Society6 on January 22, 2015.
Christine Aseka's Store
38 results
Filter