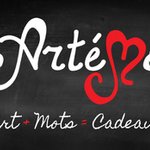 Artémo
Artémo est une entreprise québécoise qui se distingue par son offre de produits originaux sur lesquels sont imprimées des reproductions d'œuvres / d'illustrations colorées et empruntes d'émotions, accompagnées de citations inspirantes, de mots touchants... de mots puissants. Artemo is a Quebec company that stands out for its range of original products on which are printed reproductions of colorful artworks / illustrations and filled with emotions, along with inspirational quotes, touching words... powerful words. Artémo joined Society6 on September 29, 2014
More
Artémo est une entreprise québécoise qui se distingue par son offre de produits originaux sur lesquels sont imprimées des reproductions d'œuvres / d'illustrations colorées et empruntes d'émotions, accompagnées de citations inspirantes, de mots touchants... de mots puissants.
Artemo is a Quebec company that stands out for its range of original products on which are printed reproductions of colorful artworks / illustrations and filled with emotions, along with inspirational quotes, touching words... powerful words.
Artémo joined Society6 on September 29, 2014.