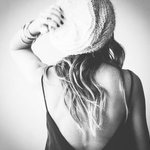 Christine DeLong Creative Studio
website: http://www.christinedelong.com instagram: https://instagram.com/_christinedelong/ facebook: https://www.facebook.com/pages/Christine-DeLong-artist/145610442148081 contact: christine.a.delong@gmail.com
I live and create in BC, in a small city called Kelowna to be exact. It has good wine and plenty of sunshine for bike rides to the beach. The best part is its a quick drive home to Castlegar, my hometown.
My likes and dislikes are anything but typical - whiskey, 90's rap music, meatloaf, artificially orange flavoured foods, vintage furniture, and the colour grey. Overall, I treasure experiences over things- new places, good conversation, food + wine, tall mountains with kootenay views.
My most favourite of days are when all of those things happen at once.
I would love to see where my products end up. Snap a pic! #cdstudio (Christine DeLong Creative Studio) and I'll post on my social media with permission. Thank you so much for your support.
Read more
Christine DeLong Creative Studio's Store
Filter