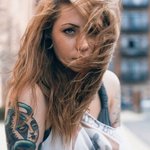 Christine Jo Della Fielder
I am interested in creating a nostalgic connection between the audience and the client at hand. The root of Art and Design is based in psychology and the way we interact with objects. My goal is to make an effortless tangent between people back to their young imaginative minds. The end game for me as a creative is to make someone feel something. Through strong visuals and intriguing type choices, I will draw in a crowd even not always interested in the subject at hand. With design, there is a social power that every working professional needs to find, and define on their own. Mine is to remind everyone of life, desire, humility and humanity. As I explore what it means to be a person, my style has developed into an expressive explosion of color and detail. Through my design, I have been focusing on using minimal typefaces that support a bigger concept behind the psychology of design. Christine Jo Della Fielder joined Society6 on December 12, 2013
More
I am interested in creating a nostalgic connection between the audience and the client at hand. The root of Art and Design is based in psychology and the way we interact with objects. My goal is to make an effortless tangent between people back to their young imaginative minds. The end game for me as a creative is to make someone feel something. Through strong visuals and intriguing type choices, I will draw in a crowd even not always interested in the subject at hand. With design, there is a social power that every working professional needs to find, and define on their own. Mine is to remind everyone of life, desire, humility and humanity.
As I explore what it means to be a person, my style has developed into an expressive explosion of color and detail. Through my design, I have been focusing on using minimal typefaces that support a bigger concept behind the psychology of design.
Christine Jo Della Fielder joined Society6 on December 12, 2013.
Christine Jo Della Fielder's Store
45 results
Filter