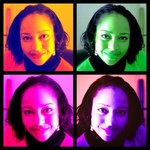 Christine Fontenot Fine Art
Bio Christine Fontenot is a native of colorful Colorado, who creates floral, figurative, portrait, still life, and plein air oil paintings. Her love for bright colors began at the tender age of 2 1/2, when she would separate her hair barrettes into groups by color. Her artistic gift was discovered and encouraged by her parents at an early age. She began taking private art lessons with local artist Sally Bartalot at the age of seven, where she was introduced to the 'basics' of design and composition. A childhood full of value studies, color mixing and perspective exercises, drawing and painting from life became the foundation for her lifelong love of art. Having a thirst for artistic knowledge and a passion for color, she studied with Bartalot for eleven years. In 2004 she came to the Art Students League of Denver, where she has continued her artistic development. She feels blessed to be able to learn from and study with amazingly talented artists like Mitch Caster, Mark Daily, Ron Hicks, and Jane Jones. Artist Statement Drawn in by the colors that so abundantly spread around us, I endeavor to create works that are both accessible and worthy representations of the honest beauty I find in my subjects. From the cool shadows on a bent rose petal at sunset to the warmth of sunlight on skin, I want to show that beauty exists all around us, and that color makes things beautiful. An image in black and white or greyscale can make a strong statement, but I believe color gives us more to admire. Color is so much more than red apples, green grass and blue skies. It's not just bright colors, but the complexity of color that I find so exciting—colors in shadows and in highlights—light itself has a color—objects are influenced by the colors around them, and by the color of light on or near them. I want to draw the viewer's attention to these aspects of color in my subject. It is this complexity of color that produces a visual feast every day. We just need to slow down enough to recognize it; pocket the devices, unplug, and experience the daily sights with our senses attuned. Subtle colors that can't be seen in a quick glance, color-shifts that won't be captured with a tap of the phone, complements and contrasts; all of these contribute to the beauty that is easily overlooked in our hurried rushing while trying to 'record' everything. Life has many beautiful moments, we have to be present—to take the time to enjoy the beauty of the colors that exist in that particular moment. Christine Fontenot Fine Art joined Society6 on November 23, 2016
More
Bio
Christine Fontenot is a native of colorful Colorado, who creates floral, figurative, portrait, still life, and plein air oil paintings. Her love for bright colors began at the tender age of 2 1/2, when she would separate her hair barrettes into groups by color. Her artistic gift was discovered and encouraged by her parents at an early age. She began taking private art lessons with local artist Sally Bartalot at the age of seven, where she was introduced to the 'basics' of design and composition. A childhood full of value studies, color mixing and perspective exercises, drawing and painting from life became the foundation for her lifelong love of art. Having a thirst for artistic knowledge and a passion for color, she studied with Bartalot for eleven years. In 2004 she came to the Art Students League of Denver, where she has continued her artistic development. She feels blessed to be able to learn from and study with amazingly talented artists like Mitch Caster, Mark Daily, Ron Hicks, and Jane Jones.
Artist Statement Drawn in by the colors that so abundantly spread around us, I endeavor to create works that are both accessible and worthy representations of the honest beauty I find in my subjects. From the cool shadows on a bent rose petal at sunset to the warmth of sunlight on skin, I want to show that beauty exists all around us, and that color makes things beautiful. An image in black and white or greyscale can make a strong statement, but I believe color gives us more to admire. Color is so much more than red apples, green grass and blue skies. It's not just bright colors, but the complexity of color that I find so exciting—colors in shadows and in highlights—light itself has a color—objects are influenced by the colors around them, and by the color of light on or near them. I want to draw the viewer's attention to these aspects of color in my subject. It is this complexity of color that produces a visual feast every day. We just need to slow down enough to recognize it; pocket the devices, unplug, and experience the daily sights with our senses attuned. Subtle colors that can't be seen in a quick glance, color-shifts that won't be captured with a tap of the phone, complements and contrasts; all of these contribute to the beauty that is easily overlooked in our hurried rushing while trying to 'record' everything. Life has many beautiful moments, we have to be present—to take the time to enjoy the beauty of the colors that exist in that particular moment.
Christine Fontenot Fine Art joined Society6 on November 23, 2016.