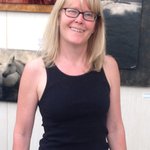 Christine Hauber
I am a fine art photographer specializing in infrared and texture overlay photography. I have been a professional photographer since 1995 when I started my own portrait business. In 2001, I ventured out into the back roads of the USA and traveled more than 50,000 miles in three and a half years photographing the working people of America. My book, "Working in the USA" was published in 2006. Since then, the gypsy spirit caught a hold of me so I have continued traveling and selling my fine art photography in juried fine art shows across the country as well as teaching creative photography workshops. My main website is http://www.christinehauber.com Christine Hauber joined Society6 on September 17, 2013
More
I am a fine art photographer specializing in infrared and texture overlay photography. I have been a professional photographer since 1995 when I started my own portrait business. In 2001, I ventured out into the back roads of the USA and traveled more than 50,000 miles in three and a half years photographing the working people of America. My book, "Working in the USA" was published in 2006.
Since then, the gypsy spirit caught a hold of me so I have continued traveling and selling my fine art photography in juried fine art shows across the country as well as teaching creative photography workshops.
My main website is http://www.christinehauber.com
Christine Hauber joined Society6 on September 17, 2013.