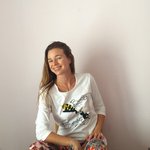 Christine Olga Smith
BIO and CV Christine Olga Smith 2017 Christine Olga Smith grew up in Dhahran, Saudi Arabia. After graduating from Parsons School of Design (Paris & NY) with a degree in design for communication in 2008, founded her own art space dedicated to cultivating and promoting contemporary art practices internationally in a small coastal town of Porto Heli. It is an area that has a lot of history and nature. The company started out as an art gallery and then grew into a multi-functional art space used exhibits, art workshops and studio time. A lot of the work on Blue Fig Art Etsy was developed in the original location, which has now moved to Glyfada, a coastal suburb of Athens. Christine's work has exhibited in Saudi Arabia, as well as the United Nations in Geneva, with artists from the Middle East ('10), in New York at the John Jay College of Criminal Justice ('12), at the Poseidonion Grand Hotel in Spetses ('13) where she is also a curator, at SG Gallery in St. George Lycabettus ("Dreams and Think Positive" Nov. & Dec. '11) and the Evgenidou Foundation (Eco '09), in Athens. Most recently her series of oil paintings from nature entitled were on exhibit in Porto Heli, Greece in an exhibit entitled, "The Children of Morea, " similar works were displayed at the U.S. Embassy in Abu Dhabi in April, 2014, then subsequently in New York in 2016. Her design project My Sun II was exhibited in Views Bahrain with Al-Riwaq Gallery, and her short animation, Like, Share & Follow: Sea Turtles Hatching, was exhibited as part of the Post Studio Micro Residency Show, Houston, Texas, 12/'16. Christine Olga Smith joined Society6 on May 16, 2016
More
BIO and CV Christine Olga Smith 2017
Christine Olga Smith grew up in Dhahran, Saudi Arabia. After graduating from Parsons School of Design (Paris & NY) with a degree in design for communication in 2008, founded her own art space dedicated to cultivating and promoting contemporary art practices internationally in a small coastal town of Porto Heli. It is an area that has a lot of history and nature. The company started out as an art gallery and then grew into a multi-functional art space used exhibits, art workshops and studio time. A lot of the work on Blue Fig Art Etsy was developed in the original location, which has now moved to Glyfada, a coastal suburb of Athens.
Christine's work has exhibited in Saudi Arabia, as well as the United Nations in Geneva, with artists from the Middle East ('10), in New York at the John Jay College of Criminal Justice ('12), at the Poseidonion Grand Hotel in Spetses ('13) where she is also a curator, at SG Gallery in St. George Lycabettus ("Dreams and Think Positive" Nov. & Dec. '11) and the Evgenidou Foundation (Eco '09), in Athens. Most recently her series of oil paintings from nature entitled were on exhibit in Porto Heli, Greece in an exhibit entitled, "The Children of Morea, " similar works were displayed at the U.S. Embassy in Abu Dhabi in April, 2014, then subsequently in New York in 2016. Her design project My Sun II was exhibited in Views Bahrain with Al-Riwaq Gallery, and her short animation, Like, Share & Follow: Sea Turtles Hatching, was exhibited as part of the Post Studio Micro Residency Show, Houston, Texas, 12/'16.
Christine Olga Smith joined Society6 on May 16, 2016.
Christine Olga Smith's Store
45 results
Filter