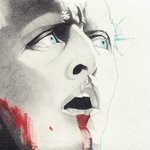 Christopher Morris
I like the comforting effect drawing gives me, and the escapism it allows me. I like the isolation and independence I feel through drawing. I have always had a fascination with faces, and acquire great pleasure in capturing the character in a face. Christopher Morris joined Society6 on February 26, 2013
More
I like the comforting effect drawing gives me, and the escapism it allows me. I like the isolation and independence I feel through drawing.
I have always had a fascination with faces, and acquire great pleasure in capturing the character in a face.
Christopher Morris joined Society6 on February 26, 2013.