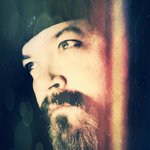 christopher r peters
Born and raised in California and Washington, USA, I have taken numerous art classes throughout my years. I have found that my best teachers have been my peers and my experience, trials, experiments, etc. I have forever been fascinated by the structured chaos of nature. The geometric patterns that can be found in everyday flora is mind boggling. The seemingly NON Randomness of it all. I think that is why fractal art has such an appeal to me. The organic nature of it, even though it grows straight from math and anything but the arbitrary. The beauty and simplicity is so incredible, it can't be real. How can something so acute and programmed be at the same time so organic and, chaotic? Every day I strive to unlock something new. Hopefully you will see something I did not. My greatest joy comes from the dialogues that something I create can induce. That, to me, is the true spirit of artistic expression and creation, in any form, any medium.
THE FOLLOWING CAN BE FOUND ON "My Zazzle store": http://www.zazzle.com/chrispy27 (Home and Kitchen, Blankets, Towels, Electronics, Stationary, more...) !http://rlv.zcache.com/swirly_balls_deck_of_playing_cards-r178a03c113b94ffc8c73e16bbb4b0068_zaeo3_324.jpg?rlvnet=1! !http://rlv.zcache.com/teslas_eye_custom_designed_postage_stamp-rb133ce7b70254397baa0c308cd16e9fd_zhghn_8byvr_324.jpg!
THE FOLLOWING CAN BE FOUND ON "My Print All Over Me Store": http://printallover.me/collections/christopherrpeters (Clothing and accessories with 'all-over design printing) !http://cdn.shopify.com/s/files/1/0290/8145/products/paome_d6285d80-541b-0132-d76e-52b3628a6526place_convert_w_2048_h_2048_a242167d-8f41-4d1b-a388-898c4a40661b_large.png?v=1416622741! !http://cdn.shopify.com/s/files/1/0290/8145/products/paome_de6f0bb0-4107-0132-7777-3e14a9620047place_convert_w_2048_h_2048_dbdbaf9d-fbba-40e2-ade7-a12dd2ac5bce_large.png?v=1414525101! !http://cdn.shopify.com/s/files/1/0290/8145/products/paome_0253e530-42a1-0132-ea9a-7a8a0019bcf3place_AMxI2RVWSnGLYyMs85iA_octopus-garden_large.png?v=1414700820!
The content of these webpages is not public domain. Unless otherwise noted, all images and text on these pages are the sole property of Christopher R Peters. No image or text is to be reproduced, copied, manipulated, or used in any way without the express permission of Christopher R Peters. © Christopher R Peters All rights reserved.
Read more