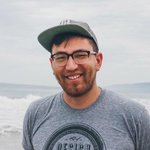 Christopher Vela
The name's Christopher Vela and I am a Texas based designer. My weapons of choice: pencil, wacom pen, x-acto knife, and sometimes a good 'ol paint brush. Whether it's being behind a camera, moving pixels, or laying out type, I love making art for a living. Something I've heard, and firmly believe in: "If you do what you love, you'll never have to work another day in your life."
Currently based in the hot and humid, but sometimes cool, city of Houston, TX. During the day, I am a Motion Graphics Designer, and get to work with the talented team over at ELL Creative.
When I'm not designing, I am on the look out for a well designed t-shirt, the best burger in Texas, and last but not least, spending time with my wife and two dogs. By the way, so far in my opinion, the best burger is in Dallas, TX at Twisted Root Burger Co.
Read more
Christopher Vela's Store
Filter