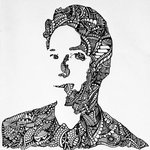 christoph_loves_drawing
My name is Christoph. Born in Germany and raised in the Black Forest . Since I can remember was the draw and create the greatest passion of mine. Art had always been a big part of my life. I just love to take my pen in hand and let it flow. It is pure passion. http://www.doodle-design.de/ https://instagram.com/christoph_loves_drawing/ you also can contact me via E-Mail: christoph.loves.drawing@gmail.com christoph_loves_drawing joined Society6 on August 27, 2015
More
My name is Christoph. Born in Germany and raised in the Black Forest . Since I can remember was the draw and create the greatest passion of mine. Art had always been a big part of my life. I just love to take my pen in hand and let it flow. It is pure passion.
http://www.doodle-design.de/ https://instagram.com/christoph_loves_drawing/
you also can contact me via E-Mail: christoph.loves.drawing@gmail.com
christoph_loves_drawing joined Society6 on August 27, 2015.