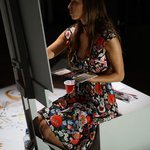 Christy McCormick
Christy McCormick is an artist who skilfully weaves her way through a web of creative medium, masterfully employing each with a playful tenacity and discernible style. Armed with talent, learned draughtsmanship and an inquisitive mind, Christy is beginning her career with flair and vitality. A recent graduate from the London College of Fashion, Christy is highly trained in illustration and demonstrates an articulate ability to capture her subject. Christy deftly captures the human body, an emotion or gesture, in rippling watercolours, inks, oils or charcoal to sketch her muse with an imaginative gaze. Her work has been exhibited in a solo exhibition at Ballad & Shorthall and is continually featured in Something About Magazine. Christy has worked for Alexander McQueen where she helped develop prints for both menswear and womenswear and has worked with an ethical fashion magazine where she produced illustrations aiming to show the faces affected by fast fashion. She also ritually teaches a self-directed art class to children. Based in London where she has recently completed a BA in Fashion Illustration, Christy is currently working on a freelance basis, taking private commissions and collaborations. Her recent work has been an Amazonian inspired nightwear collection raising awareness of increasing deforestation and climate change issues. Christy McCormick joined Society6 on November 15, 2013
More
Christy McCormick is an artist who skilfully weaves her way through a web of creative medium, masterfully employing each with a playful tenacity and discernible style. Armed with talent, learned draughtsmanship and an inquisitive mind, Christy is beginning her career with flair and vitality.
A recent graduate from the London College of Fashion, Christy is highly trained in illustration and demonstrates an articulate ability to capture her subject. Christy deftly captures the human body, an emotion or gesture, in rippling watercolours, inks, oils or charcoal to sketch her muse with an imaginative gaze.
Her work has been exhibited in a solo exhibition at Ballad & Shorthall and is continually featured in Something About Magazine. Christy has worked for Alexander McQueen where she helped develop prints for both menswear and womenswear and has worked with an ethical fashion magazine where she produced illustrations aiming to show the faces affected by fast fashion. She also ritually teaches a self-directed art class to children.
Based in London where she has recently completed a BA in Fashion Illustration, Christy is currently working on a freelance basis, taking private commissions and collaborations. Her recent work has been an Amazonian inspired nightwear collection raising awareness of increasing deforestation and climate change issues.
Christy McCormick joined Society6 on November 15, 2013.