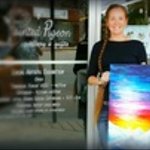 ChristyMichellePloch.com
Christy Michelle Ploch is an artist & photographer living on the beautiful coast of Panama City Beach, Florida. She is a self taught artist & aspiring photographer. Christy enjoys acrylics on canvas and has a love for black & white photography.​ Her art and photography have been featured in: Painted Pigeon gallery & gifts in Olive Branch, MS ChristyMichellePloch.com joined Society6 on August 31, 2015
More
Christy Michelle Ploch is an artist & photographer living on the beautiful coast of Panama City Beach, Florida.
She is a self taught artist & aspiring photographer. Christy enjoys acrylics on canvas and has a love for black & white photography.​
Her art and photography have been featured in: Painted Pigeon gallery & gifts in Olive Branch, MS
ChristyMichellePloch.com joined Society6 on August 31, 2015.