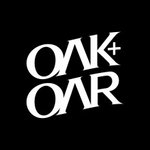 Oak + Oar
One late June afternoon I found myself stranded just off shore in a 12 foot fishing boat. It was a gorgeous summer day so the fact that I couldn't get the 9.9 Evinrude motor to fire didn't seem to be too concerning. I rustled up our old basswood and oak inlay oars and began to nonchalantly propel myself across a calm lake. What struck me in those 20 minutes that it took me to get back to shore was how one tiny acorn could evolve into a structure of such strength and magnitude and then be fashioned into something so practical that could be used to propel me to my final destination. Oak + Oar began with a simple idea and a strong desire. The brand planted roots in central Canada and began the journey into new and unfamiliar territory. Over a year in the works the brand officially set to launch in Summer 2012. Drawing inspiration from cabin lifestyle and the comradery of weekends at the lake, Oak + Oar seeks to bring to market a unique range of clothing and accessories synonymous with cabin culture. Whether it is a gusting sub-zero December evening huddled around the wood stove shooting the breeze, a scorching July afternoon out on the water, or a late August evening spent posted up around the fire with a couple cold ones and good company, you are sure to find Oak + Oar. We'll see you at the lake. These are a few photos captured along the way. Oak + Oar joined Society6 on September 23, 2013
More
One late June afternoon I found myself stranded just off shore in a 12 foot fishing boat. It was a gorgeous summer day so the fact that I couldn't get the 9.9 Evinrude motor to fire didn't seem to be too concerning. I rustled up our old basswood and oak inlay oars and began to nonchalantly propel myself across a calm lake. What struck me in those 20 minutes that it took me to get back to shore was how one tiny acorn could evolve into a structure of such strength and magnitude and then be fashioned into something so practical that could be used to propel me to my final destination.
Oak + Oar began with a simple idea and a strong desire. The brand planted roots in central Canada and began the journey into new and unfamiliar territory. Over a year in the works the brand officially set to launch in Summer 2012.
Drawing inspiration from cabin lifestyle and the comradery of weekends at the lake, Oak + Oar seeks to bring to market a unique range of clothing and accessories synonymous with cabin culture. Whether it is a gusting sub-zero December evening huddled around the wood stove shooting the breeze, a scorching July afternoon out on the water, or a late August evening spent posted up around the fire with a couple cold ones and good company, you are sure to find Oak + Oar.
We'll see you at the lake.
These are a few photos captured along the way.
Oak + Oar joined Society6 on September 23, 2013.
Oak + Oar's Store
11 results
Filter