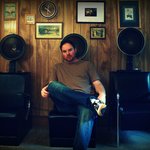 MoondogChuck
I am a writer and artist living in Tennessee. I grew up in middle Tennessee and moved to Nashville after college. I love the creative vibe in my adopted hometown and love the energy that comes from the music and history of this area. Most of my work is inspired by random trips down backroads that have been forgotten by all but those who live along their many asphalt and gravel tributaries that wander up hills and down hollows past rusty motel signs and restaurants that once served five cent hamburgers and hand-mixed chocolate shapes. I'm trying to capture images of a world that is slowly disappearing. I run a blog at www.TheLowGravy.com. Stop by and check it out. If you like my work, I think you'll like my blog too. I'm particularly interested in connecting with other southern artists who share my vision of preservation. I am an arts advocate and believe in community. I'm always looking for new art to share with my readers. If you know an artist (even if it's you) whose work you think I would like, let me know. Contact me here or email me at chuckbillingsley@gmail.com. Thanks for stopping by. MoondogChuck joined Society6 on August 23, 2011
More
I am a writer and artist living in Tennessee. I grew up in middle Tennessee and moved to Nashville after college. I love the creative vibe in my adopted hometown and love the energy that comes from the music and history of this area. Most of my work is inspired by random trips down backroads that have been forgotten by all but those who live along their many asphalt and gravel tributaries that wander up hills and down hollows past rusty motel signs and restaurants that once served five cent hamburgers and hand-mixed chocolate shapes. I'm trying to capture images of a world that is slowly disappearing.
I run a blog at www.TheLowGravy.com. Stop by and check it out. If you like my work, I think you'll like my blog too. I'm particularly interested in connecting with other southern artists who share my vision of preservation. I am an arts advocate and believe in community. I'm always looking for new art to share with my readers. If you know an artist (even if it's you) whose work you think I would like, let me know. Contact me here or email me at chuckbillingsley@gmail.com. Thanks for stopping by.
MoondogChuck joined Society6 on August 23, 2011.
MoondogChuck's Store
23 results
Filter