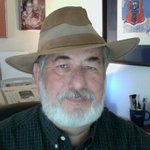 Clore Concepts Chuck's Stuff
"Great graphics, crisp photography & just the right words are my tools for strong communication. Throw in an occasional dash of humor and these images may happily reflect your thoughts and life as well." With careers in graphic design, publishing, advertising and editorial cartooning, Chuck enjoys the nuances of wordplay and the inventiveness of concept work. Check out his graphic work and articles at https://www.linkedin.com/in/chuckclore/ Clore Concepts Chuck's Stuff joined Society6 on August 14, 2014
More
"Great graphics, crisp photography & just the right words are my tools for strong communication. Throw in an occasional dash of humor and these images may happily reflect your thoughts and life as well."
With careers in graphic design, publishing, advertising and editorial cartooning, Chuck enjoys the nuances of wordplay and the inventiveness of concept work. Check out his graphic work and articles at https://www.linkedin.com/in/chuckclore/
Clore Concepts Chuck's Stuff joined Society6 on August 14, 2014.