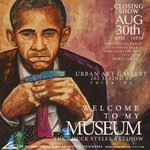 Charles Styles Artistry
Innovate. Create. Inspire - Chuck Styles Artist from the Philadelphia area. Happily married and loving father. Specializes in fine art and illustration. Professional barber and lover of music and film. Enjoys life and tries to appreciate every aspect of it. FOLLOW ON INSTAGRAM FOR MORE WORKS IN PROGRESS ARTWORK @ CHUCK_STYLES EMAIL: cedwardsart@gmail.com Charles Styles Artistry joined Society6 on March 26, 2013
More
Innovate. Create. Inspire - Chuck Styles
Artist from the Philadelphia area. Happily married and loving father. Specializes in fine art and illustration. Professional barber and lover of music and film. Enjoys life and tries to appreciate every aspect of it.
FOLLOW ON INSTAGRAM FOR MORE WORKS IN PROGRESS ARTWORK @ CHUCK_STYLES EMAIL: cedwardsart@gmail.com
Charles Styles Artistry joined Society6 on March 26, 2013.