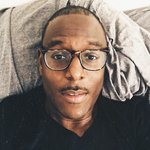 Church Johnson
Thanks for checking out "My Page" My Name is Church Johnson and I'm a writer. I'm committed to bringing more exciting art to this site. I was born in the Bronx, New York. On this Profile Page you will find post about various topics lifestyle, love, relationships, and life tips. My passion is to help you grow and master the tools for living smarter and healthier. I won't shy away from any artistic view. Keep Being Great. I hope you enjoy my display. @ChurchJohnson Church Johnson joined Society6 on December 23, 2016
More
Thanks for checking out "My Page"
My Name is Church Johnson and I'm a writer. I'm committed to bringing more exciting art to this site.
I was born in the Bronx, New York.
On this Profile Page you will find post about various topics lifestyle, love, relationships, and life tips. My passion is to help you grow and master the tools for living smarter and healthier. I won't shy away from any artistic view.
Keep Being Great. I hope you enjoy my display.
@ChurchJohnson
Church Johnson joined Society6 on December 23, 2016.