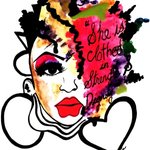 Cierra Lynn Collection
Brilliant brush strokes, vibrant colors, Afro-centric patterns and prints, and beautiful portraits have become the essence of my artwork. I am the artist Cierra Lynn. Often described as "shy, soft spoken, and behind the scenes", my artwork speaks volume. I use bold colors and prints to express my moods, thoughts, and feelings. I love to express my individual style; it is a distinctive style that is like no other. Inspired by my own self- esteem, confidence, and my love and passion for the arts, I create portraits and accessories incorporating abstract women as my interpretation of loving the skin you're in. It's my voice to say "love who you were created to be."
As a child, I began seeing my artistic talents. Starting from crayons to markers, then markers to paint, I loved art. From designing name plates for my classmates and teachers, to winning school wide art competitions in elementary school I knew with practice and perseverance I could develop my talent. My hobby didn't stop there. In junior high and high school, I started to design on clothing merging art and fashion and from there knew that someday my hobby would be my career.
I attended Norfolk State University in 2003 and graduated in 2007 with a major in Fine Arts. As a Washington DC native on campus, I was stereotyped by my peers. Often labeled as dressing wild and crazy, I learned to embrace my unique sense of style. I hand painted and handcrafted clothing and accessories for friends, roommates, sororities, fraternities, donated pieces to local high schools, and participated in on and off campus fashion shows. Not only was this a way to buy my books, and art supplies it was ultimately my chance to do what I dreamed of doing. I was overwhelmed with the huge amount of support, encouragement and success, and it was very much loved and appreciated. It was confirmed at that moment I had a gift from God that impacts others. From 2008 to 2011 I began teaching early childhood education. Starting as a teacher's assistant, I was later promoted to an art teacher position. I developed hands-on, engaging art and fashion design projects and often lead private art lessons. After being laid off from my job as an art teacher I continued to create and focus more on my art while applying for more teaching jobs. After months of applying with no job in site nor a way to provide for my daughter, I decided to take my destiny into my own hands. From that point, I became an entrepreneur.
Cierra Lynn has now evolved into brand for adults and children that is a voice for human beings who stand for and represent the importance of being an individual. As Cierra Lynn grows, I will strive to provide customers with original and unique products, which will enhance personal styles and cater to the individuals who stand outside the box. I strive to promote individuality, self- love, and encouraging words through art and fashion.
Read more