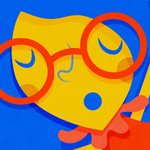 Cindy Suen
Hello!
I'm a Hong Kong born Illustrator, Graphic, and Motion Designer living and working between Hong Kong and Savannah, Georgia. When I'm not creating, I will probably be eating cheese or running by the river. I love making GIFs, follow me on Tumblr for my latest GIFs updates.
Get in touch! Shoot me an email at cindysuen21@gmail.com if you would like to collaborate or just to say hi – I'd love to hear from you!
Thank you so much for stopping by!
More products will be available soon, keep checking :)
Check out my website at http://cargocollective.com/cindysuen
FIND ME ELSEWHERE ON THE WEB
Facebook :: http://facebook.com/cindy.makes.stuff Tumblr :: http://cindysuen.tumblr.com Dribbble :: http://dribbble.com/cindysuen Twitter :: http://twitter.com/cindysuen Vimeo :: http://vimeo.com/cindysuen Behance :: http://be.net/cindysuen Pinterest :: http://pinterest.com/cindysuen Instagram :: http://instagram.com/cindysuentw
Read more