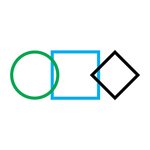 CircleSquareDiamond
Visit www.circlesquarediamond.com for more than 300+ prints!
Frequently Asked Questions (FAQ):
Q: Hey! The mountain that I like doesn't have a backside/bowl, what gives?
A: Unfortunately, most mountains have backsides to them that are relatively small. It's probably because one side is facing the sun more so it doesn't work too well for retaining snow. I could include them, but then you end up having a small awkward looking addition to the picture. For art sake, I've eliminated it. However, if your mountain has a large enough back side, I've split the work in to two. For example, Vail has a backside that's comparable to its front side. As such, Vail will have a front side and a backside print.
Q: I don't get it. Why do some have 'resort' at the end and some don't? Aren't they all resorts?
A: Yes. However, based upon my choice I wanted all the text to box together. I wanted the mountain information to align around the resort name, but I didn't want it to be too small. Resorts such as Vail and Snowbird require more lettering. As a result, I just simply added filler text such as "Mountain" and "Resort." I did this so that individuals who wanted to purchase multiple pieces can be assured that the lettering aligns properly.
Q: What's up next?
A: I have a bunch of mountains that I'd like to complete soon. Most of these are based upon user interest. Right now, I'm working on as many US/CA based mountains as possible. I pump out approximately 1-2 a day (sometimes 3-4). I have a list of international mountains I would like to go after depending on how well they sell!
Q: Will you make T-Shirts/iPads/iPhone cases?
A: If there's enough demand, yes. Right now, I haven't been asked to modify the files to adjust to that size. I kinda think they're tacky, but I'm not opposed to them.
Q: I've seen similar stuff to this before -- what makes yours different?
A: In truth, they're similar they have the same medium, same subject material, but very different in the execution of the piece.
Many of the other artists out there go TOO minimal. I believe that trail maps have a purpose. They contain information. If you strip away the basic alpine colors (green, blue, black, orange) and just go with solid colors, you're left with a bunch of lines that have no meaning. Stripping away everything else, but leaving the colors brings purpose back into the art. The colors MEAN something versus just 'being there.' Ultimately, this is what art is. You have to extract meaning from something for it to be useful. Plus, singular colors are bland.
Q: Why are you doing this?
A: I want a Corgi. All purchases go towards a 'buy me a Corgi' fund.
Read more
CircleSquareDiamond's Store
1000+ results
Filter