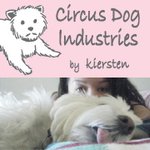 Circus Dog Industries
I'm an eccentric, eclectic Blasian girl who loves the playful side of life. For years I worked as a childrenswear designer, but now I have the freedom to be a little more whimsical doing my own stuff. Yoroshiku ne! You can find me here: http://www.circusdogindustries.com http://circusdogindustries.etsy.com http://www.facebook.com/circusdogindustries http://www.youtube.com/circusdogindustries Circus Dog Industries joined Society6 on April 29, 2013
More
I'm an eccentric, eclectic Blasian girl who loves the playful side of life. For years I worked as a childrenswear designer, but now I have the freedom to be a little more whimsical doing my own stuff. Yoroshiku ne!
You can find me here: http://www.circusdogindustries.com http://circusdogindustries.etsy.com http://www.facebook.com/circusdogindustries http://www.youtube.com/circusdogindustries
Circus Dog Industries joined Society6 on April 29, 2013.