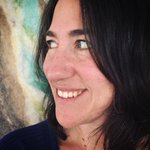 Claire Astra Studios
I am originally from San Diego, CA and have also had the privilege of living in Hawai'i, Pennsylvania, Florida, British Columbia and Nova Scotia. I now find myself in Northern California amid a beautiful coastline, rivers and redwoods. All this is enjoyed with my husband Ian and our dog Gili.
Each place in which I have lived has formed a bit of who I am and the aesthetics I am drawn to. I received my BFA in drawing and painting from the University of Hawai'i. I later earned a graduate diploma from Regent College in Vancouver, focusing on the interplay of faith, creativity and the arts.
In my work I am interested in capturing impressions in nature, community and relationships as a sort of contemplative listening and longing. I enjoy exploring nuance and emotion beyond the appearance of a subject.
Read more