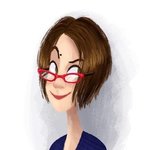 Claire Ayn Belyea
Claire Belyea is freelance artist and animator who graduated from the Savannah College of Art and Design in Savannah, Georgia. She received her B.F.A in Animation. She has loved art and animation for as long as she's been able to hold a purple crayon, because the color purple is awesome that's why. She hopes to work hard and learn many things in animation so she can work towards a career as an visual developer within the industry. Claire Ayn Belyea joined Society6 on June 24, 2014
More
Claire Belyea is freelance artist and animator who graduated from the Savannah College of Art and Design in Savannah, Georgia. She received her B.F.A in Animation.
She has loved art and animation for as long as she's been able to hold a purple crayon, because the color purple is awesome that's why. She hopes to work hard and learn many things in animation so she can work towards a career as an visual developer within the industry.
Claire Ayn Belyea joined Society6 on June 24, 2014.
Claire Ayn Belyea's Store
12 results
Filter