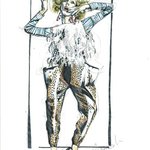 Claire Nelson-Esch
A little bit about me..................... ♥ I grew up in southern England. I studied fashion design in London. After graduating I stayed in London where I lived and worked for many years. Next stop!! Long Beach, California. I lived here for two years, which I adorded, before moving back to England. Itchie feet again and I found myself in Portugal and this is where i've been for the last eight years and now call home!! I live by the beach with my cat 'Mouse' and scruffy doggie, Poppy. Claire Nelson-Esch joined Society6 on July 22, 2011
More
A little bit about me..................... ♥
I grew up in southern England. I studied fashion design in London. After graduating I stayed in London where I lived and worked for many years. Next stop!! Long Beach, California. I lived here for two years, which I adorded, before moving back to England.
Itchie feet again and I found myself in Portugal and this is where i've been for the last eight years and now call home!! I live by the beach with my cat 'Mouse' and scruffy doggie, Poppy.
Claire Nelson-Esch joined Society6 on July 22, 2011.
Bags by Claire Nelson-Esch
33 results
Filter