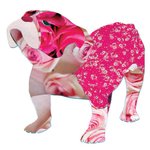 Claire Patchett
My name is Claire Patchett - I am a UK based freelance illustrator specialising in creating both narrative and abstract collage work of all shapes and sizes. I work mainly with magazine collage as I find the method of riffling through page after page very exciting, you never know what you will find. I keep an open mind when I start an image as I may find some brilliant sliver of colour or fantastic object that changes the image all together, it's a fun process. I am not afraid of colour! (I am afraid of spiders . . .) Claire Patchett joined Society6 on July 16, 2014
More
My name is Claire Patchett - I am a UK based freelance illustrator specialising in creating both narrative and abstract collage work of all shapes and sizes.
I work mainly with magazine collage as I find the method of riffling through page after page very exciting, you never know what you will find. I keep an open mind when I start an image as I may find some brilliant sliver of colour or fantastic object that changes the image all together, it's a fun process.
I am not afraid of colour! (I am afraid of spiders . . .)
Claire Patchett joined Society6 on July 16, 2014.
Claire Patchett's Store
53 results
Filter